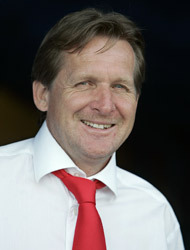 Real Madrid have appointed Bernd Schuster as their new coach.
The 47-year-old former German international, who has coached Getafe for the last two seasons, replaces Fabio Capello, who was sacked at the end of June despite leading the club to their first league title in four years.
The former Real, Atletico and Barcelona midfielder was reported to have bought himself out of his contract with Getafe by paying a compensation fee of €480,000.
Schuster steered the modest Madrid-based side to consecutive ninth-placed finishes in the Primera Liga and to a first ever final of the King's Cup, where they lost 1-0 to Sevilla.
"His teams play good, entertaining football," said Real president Ramon Calderon.
"He knows the club and will handle a dressing room full of stars."
"What we want is to have a group of people who follow the values of this club and create a team. In order for that to take place, we have been very lucky to have signed a person with all the values this club demands.
"Schuster was a great player, a great coach and a wonderful person. Schuster was one of the greatest players we ever had. Our aim is not just to win titles, but to have a team we are all proud of."
Schuster becomes the eighth manager at Real Madrid in a little over four years.
"This is a very happy day for me and I would like to thank the club for giving this opportunity to a young coach," Schuster said when he was unveiled to the media at the Bernabeu.
"This is not a new home for me as I played here for two seasons. I'm sure that on my first day as coach it will be like when I was a player and I have the same desire to triumph at the club."
"I know where I am and what I need to do. From the first day I became a coach, I wanted to one day triumph in a big club. Real Madrid is a big club."