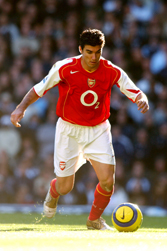 Real Madrid are confident of reaching agreement with Arsenal for the transfer of Jose Antonio Reyes.
Real Madrid sporting director Predrag Mijatovic held talks with Arsenal vice-chairman David Deinin London on Wednesday in a bid to try and agree a deal.
Reyes has indicated that he would be interested in a move to Real. Despite 2½ years spent in England following a £10.5m move from Sevilla, he still does not speak the language and has found it difficult adapting to the British climate.
"I want the matter to be resolved as soon as possible," the 23-year-old was quoted as saying in the Spanish press yesterday.
"My family and I are worried [the transfer] might collapse but I am hopeful things will be sorted in the end."
Arsenal are thought to be holding out for €18 million, while Real are only offering €15 million.
Mijatovic is hopeful a compromise can be reached to facilitate a move.
"We are optimistic and now the decision depends on Arsenal," said Mijatovic.
"After the meeting in London the positions are advanced."
Real coach Fabio Capello has confirmed his desire to bring in Reyes.
"Reyes would be an important player for us in my scheme for the team," said Capello.