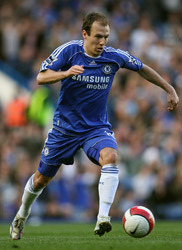 Real Madrid president Ramon Calderon is still hopeful of reaching a deal with Chelsea for Arjen Robben.
Chelsea boss Jose Mourinho reiterated this week that Robben would be staying Stamford Bridge, but speculation about as move remains intense.
Calderon thinks the Dutchman is keen to join Real and is just waiting for Chelsea to acquiesce.
"We are advancing in the negotiations," he stated.
"Those responsible are doing it very well, and I hope that it comes to fruition.
"But until the agreement is closed we cannot say anything.
"It has to be the selling club who first decides, and once that has happened, I don't suppose there will be any problems resolving the player's contract."