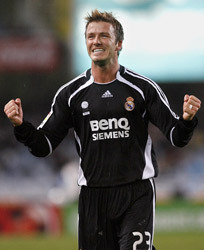 Real Madrid president Ramon Calderon has revealed that he wanted David Beckham to stay at the club.
The England midfielder recently returned to the Madrid starting line-up and his impressive performances have earned a recall to the England squad. However, he will soon quit Spain to join LA Galaxy, although Calderon claims the decision to leave Madrid was the player's and not the club's.
"We didn't let him go, we wanted him to stay," Calderon told Sky Sports News.
"In fact, I personally tried several times to renew his contract but his future is in the United States and we have to accept it.
"We wanted him to remain at Real Madrid but he took his decision and now we have to wish him the best."