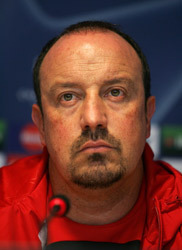 Win free Champions League bets in our Champions League Quiz. Click here to enter!
Liverpool manager Rafa Benitez believes last night's 8-0 win over Besiktas will instill fear in their future opponents.
The result, which was a record scoreline for the Champions League, moved Liverpool off the foot of Group A, but more significantly, it sent an statement of intent to rivals Porto and Marseille.
Benitez's team must still defeat the leading teams in their group to qualify for the knockout phase, but the Spaniard believes Tuesday's rout will provoke fear in Liverpool's opponents.
"The other teams know we are dangerous now," said the Liverpool manager. "Porto have to come here next and they will be worried after this result, for sure. They have plenty of experience in Europe, so they can handle the pressure of the occasion, but we have shown tonight that we can put pressure on the pitch.
"We had the belief we could qualify before this game and we know we must win our last two games. If we win the next two then I am sure we will be there.
"The rest of Europe will also be aware of what we have done.
"But in the end we still have to win those last two games, regardless of how many goals we scored this time.
"We have been creating chances and not scoring many goals, so the first goal tonight was very important. It made the game more open and once we scored the second goal they had to come out and that made it easier for our strikers and for our movements.
"Today we scored early and the game opened up. Besiktas also had to win to keep their chances of qualifying going so they had to come out and try to attack and that gave our forwards space to use.
"It made our movement easier, the space was there and our strikers were on very good form.
"But we still must win the next two and then wait to see if it is enough."
Benítez played down the record eight-goal Champions League margin of victory.
"We want to win trophies and be in the record books. We could not win a trophy tonight so a place in the books is positive," he said.
For his Besiktas counterpart, Ertugrul Saglam, his first visit to Anfield was a night to forget.
"It is very upsetting and we would like to apologise to our fans," he stated. "It is very difficult to accept a result like this. We know we must work harder and we will do. Thank you very much."
Win free Champions League bets in our Champions League Quiz. Click here to enter!