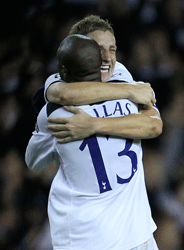 Tottenham are now a best price 14/1 for the Champions League after progressing past AC Milan last night…
Tottenham boss Harry Redknapp described his club's progress to the last eight of the Champions League as an "impossible dream".
Spurs drew 0-0 at White Hart Lane with Serie A leaders Milan on Wednesday to seal a 1-0 aggregate win and a quarter-final place.
"This is an impossible dream that we have achieved so far," said Redknapp.
"Two years ago if you would have said that we would have made it to the quarter-finals of the Champions League, I would have thought you were crazy."
And Redknapp was full of praise for his players after they knocked out a side that has won the competition seven times.
"It's our first year in the club's history we have ever made Champions League football, so that was a fantastic achievement to have won our group and to do what we have done against AC Milan," he said.
"We have beaten AC Milan over two legs with two clean sheets and won our group, which was the hardest of the lot."
Trailing 1-0 from the first at the San Siro, Milan strived desperately to get back on level terms at White Hart Lane, dominating with 58% of the possession and having 16 attempts during an anxious night for the home side.
"It was always going to be a nervy night," added Redknapp, who became the first English manager to lead a side into the quarter-finals of European football's top competition since its rebranding as Champions League in 1992.
"If you think you are going to smash AC Milan out of sight then obviously you haven't been watching football over the last few years.
"Sandro was immense in midfield, for a young lad with limited experience of the Champions League.
"We defended for our lives and the keeper did well for us too."
Redknapp had watched Barcelona knock out Tottenham's north London rivals Arsenal on Tuesday and the Spurs manager suggested that the La Liga leaders would be the team to avoid in this year's competition.
"I don't know how far we can go," said Redknapp. "I thought it was an amazing performance from Barcelona to beat a team who are probably the best passing team in the Premier League.
"To make them look so ordinary was amazing. It will be difficult for anyone to beat Barcelona. They are an amazing team, but who knows.
"We are in the last eight and we have done well to get where we are. We want to stay in this competition and go as far as we can."
Tottenham are now a best price 14/1 for the Champions League after progressing past AC Milan last night…
Take advantage of the sales by saving up to 36% on a subscription to World Soccer