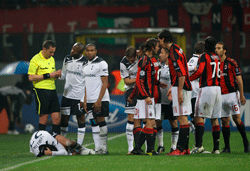 Tottenham are now a best price 25/1 for the Champions League after their 1-0 win over AC Milan last night…
Harry Redknapp has urged UEFA to take action against Mathieu Flamini after suggesting the Milan midfielder's challenge on Vedran Corluka could have broken the Tottenham defender's leg.
Corluka was stretchered off at the San Siro 10 minutes into the second half of Tottenham's famous 1-0 win over Milan in the first leg of the last 16 Champions League tie.
Flamini's two-footed lunge on Corluka was punished by a yellow card, but Redknapp is adamant the Frenchman should have been sent off.
"The tackle from Flamini was horrendous," said Redknapp.
"He was two feet off the floor. It was a leg-breaking tackle. He's done some damage to him.
"He'll probably have an X-ray tomorrow (Wednesday).
"I don't think there's anything broken but he could have broken his leg, easily.
"I'd like them (Uefa) to have a look at that tackle. How he doesn't give him a red card, I don't know. That's a tackle that breaks people's legs."
Flamini said he apologised to the Croat after the game.
"I went to the Tottenham locker room to check on Corluka's condition and to apologise," ex-Arsenal man Flamini told Sky Sport Italia.
Meanwhile, Milan captain Gennaro Gattuso has apologised for head-butting Tottenham coach Joe Jordan after the final whistle.
Italy international midfielder Gattuso squared up to the 59-year-old Scot and pushed his head towards Jordan's face.
"I lost control," said Gattuso, who had earlier pushed Jordan in the face. "There is no excuse for what I did. I take my responsibilities for that."
The Italian, making his 450th appearance for the Rossoneri, added: "I was nervous. We were both speaking Scottish, something that I learned when I played in his home city of Glasgow, but I can't tell you what we said.
"I didn't want to argue with players and I did it with him, but I was wrong to do what I have done. I will have to await what they decide."
Tottenham are now a best price 25/1 for the Champions League after their 1-0 win over AC Milan last night…
Take advantage of the sales by saving up to 36% on a subscription to World Soccer