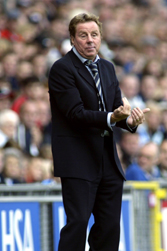 Harry Redknapp is expected to be named as Southampton's new manager later on Wednesday.
There has been speculation that Redknapp could take over at the Premier League strugglers less than a month after leaving Saints' rivals Portsmouth.
Redknapp is set to become Southampton's third manager of the season replacing Steve Wigley who has failed to turn the club's fortunes around, since taking over from Paul Sturrock in August.
The move is sure to upset Portsmouth, with Pompey director Terry Brady warning Redknapp he would be committing the "highest betrayal possible."
"The board would feel let down," said Brady.
"It would give the impression he has been in negotiations for some time and has used the appointment of Velimir Zajec as an excuse to leave the club.
"I've tried to get hold of the chairman, but he is in Belgrade and is unavailable. But if this were true he would be devastated."
Redknapp admitted on Tuesday he would not rule out taking over at Southampton and it appears he is set to be the club's new manager.