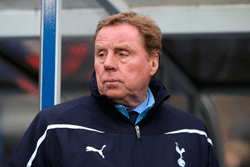 Tom 'The Power' Powell thinks Derby are the value to turn over Leicester on Saturday afternoon…
Tottenham manager Harry Redknapp will go on trial in July on charges of tax evasion dating from his time in charge of Portsmouth.
Redknapp and former Portsmouth chairman Milan Mandaric along with former chief executive Peter Storrie will face charges at Southwark Crown Court in south London on allegations that Mandaric paid Redknapp £189,000 via a Monaco bank account.
Redknapp, who ended a second spell in charge of Portsmouth in 2008, is charged with two counts of cheating the government of an estimated £40,000.
The pair were charged last year following an inquiry involving City of London Police and the Revenue and Customs department.
Tom 'The Power' Powell thinks Derby are the value to turn over Leicester on Saturday afternoon…
Take advantage of the sales by saving up to 36% on a subscription to World Soccer