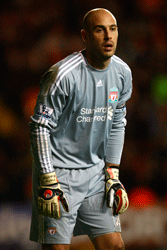 Joe Kiddle has a 10/1 tip for tonight's opening Nations Cup match between Ireland and Wales…
Liverpool goalkeeper Pepe Reina has refused to rule out a move to rivals Manchester United.
United are seeking a replacement for veteran stopper Edwin van der Sar, who will retire at the end of the season.
Reina has been mooted as a possible transfer target after establishing himself as one of Europe's most reliable keepers during his time at Liverpool.
The 28-year-old has admitted he could be tempted to make the move to Old Trafford as he would like to be challenging for major trophies on a regular basis.
"Yes, well Van der Sar will hang up his gloves in the summer so of course they are looking," Reina told Spanish radio station Ondo Sera. "I can't do anything. I can't say anything logically as I have a contract with Liverpool.
"Of course one likes to fight for titles and be in a team that does that. We always fought to be in the Champions League and try to win the title. But unfortunately it hasn't been the case in the last couple of years."
Reina admitted that his time at Anfield may come to an end if Liverpool fail to qualify for the Champions League.
"I won't lie, I want to play in the Champions League and challenge for titles," added Reina.
In January, Reina pledged his future to Liverpool, insisting that he would honour his contract with the Merseysiders.
"I'm tired of rumours linking me with many teams in England and abroad," he told the Daily Star Sunday. "I am a man of my word and commitment. I will honour my contract with Liverpool. Stories of these offers are not true. I have not spoken to anyone – ever – and I am 100% a Liverpool player.
"Since I've been here, I've found an incredible passion – more than I thought from Spain. Liverpool as a club is sacred, it is something special. Being Liverpool's goalkeeper is a privilege. For now, I just want to win trophies for them."
Joe Kiddle has a 10/1 tip for tonight's opening Nations Cup match between Ireland and Wales…
Take advantage of the sales by saving up to 36% on a subscription to World Soccer