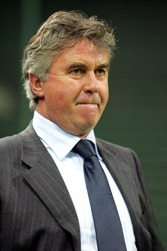 After an epic European night at Stamford Bridge it was finally Chelsea that saw-off Liverpool 7-5, and will now face Barcelona in the semi-finals.
Guus Hiddink experienced mixed emotions as he reflected on an incredible 4-4 draw against Liverpool which sent Chelsea through to the Champions League semi-finals as 7-5 aggregate winners.
The Dutchman is now looking forward to "a beautiful game" against Barcelona in the last four, while opposite number Rafael Benítez believes his side's performance augurs well for the Premier League title run-in.
"We were angry at half-time because we didn't start as we planned and we know that playing against Liverpool, who are a good team tactically, that you can't give them that much space," said Chelsea coach Hiddink. "We dropped back too much, should have defended further up the pitch and cut out the spaces for them to attack. We lost too many duels in the first half.
"At half-time tactically and mentally we said 'Hey guys, this is not the way to start the second half'. That's why I like to work with this team, because of how they react – they know they can score.
"Top players have the same angry feelings as the coach. Sometimes you lose your temper but the players had the knowledge that the performance wasn't OK. We played against a team who can play beautiful football, and if you give them too space you're in trouble.
"I've been involved in some dramatic games like this one when players make a lot of errors. That's why it was attractive, especially in the second half. You think you're down, the team reacts and then you're up. There are waves of being in the game and then out of it.
"You suffer a lot when you have so much desire to go through, for the club, the people. It's good to be involved but we know my situation. It was a tough European game with a lot of emotion, a lot of excitement. You have emotions both ways then you shake hands with the opposite coach at the end of the game. Win or lose you then have a beer – although I'm not a beer drinker so will have a glass of wine."
Looking ahead to the semi-final clash against competition favourites Barcelona, Hiddink admitted he had always admired the footballing philosophy of the Spanish side.
"Every game is different. Barcelona are a very advanced team with very skilful players who know how to exploit space," added the Dutchman. "I haven't yet thought about the Barcelona game, although for many years I've liked their philosophy of signing players who are attractive to watch. They're a team who like to play attacking football and it will be difficult to play them because they're on top form. But it's also a beautiful game to have at the end of the season.
Liverpool manager Rafael Benítez said he was proud of the way his players continued to take the game to Chelsea.
"We showed character, quality, and have to be really proud of the players who've done a fantastic job," he said. "The fans will be very pleased with the team. We were on top of them in the beginning, so credit to all the players, especially Lucas in the middle who worked very hard. Thanks to them we were pushing, pushing and were very,very close. But when you play a good team like Chelsea you pay for your mistakes.
Benitez was forced to play without talismanic skipper Steven Gerrard who failed a fitness test before the game.
We thought Steven Gerrard would be OK to play but in the end he felt something and couldn't," added Benitez. "I don't know what Chelsea thought about him not playing but for us it was a credit to the other players for doing such a fantastic job.
"Clearly when you lose you have to be disappointed but to lose in this way we can be really proud with our heads up. We can think positively for the Premier League because we've showed we can score four goals at Stamford Bridge.
After an epic European night at Stamford Bridge it was finally Chelsea that saw-off Liverpool 7-5, and will now face Barcelona in the semi-finals.