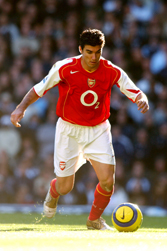 Jose Antonio Reyes has again admitted that he wants to leave Arsenal to join Real Madrid.
Real's sporting director Predrag Mijatovic held talks with Arsenal vice-chairman David Dein last week to discuss a move, although both clubs have yet to agree a fee for the Spanish international.
Reyes remains optimistic the two clubs can come to an agreement after telling Arsenal manager Arsene Wenger that he wants to leave.
"I have said to Wenger and the chairman of Arsenal that the offer from Madrid is irresistible for me," Reyes told AS.
"It is a dream that I want to fulfil and now the only thing that is lacking is an offer which is also good for Arsenal.
"Wenger already knows that I want to go away."
Reyes acknowledges that he will have to return to Arsenal, if the two clubs are unable to agree upon a fee.
"My intention was one of not having to return to incorporate myself into working with Arsenal, but that will be necessary if the negotiations do not finish soon," he added.
"I hope to go to London on Wednesday and then return home fast to initiate a new stage.
"I have put everything in on my part. I have taken all the opportunities and continued to work hard for Wenger.
"The coach knows that I have had problems adapting to life in England.
"If we do not reach an agreement, it would be something bad for Arsenal and me."