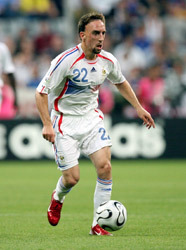 Help us with a Sport and Betting Survey! Click here to take part now.
Franck Ribery has alerted Europe's leading clubs by claiming he would be interested in a move away from Marseille if the club do not qualify for the Champions League.
The French international has been given permission to leave Stade Velodrome if the club receives a suitable offer, although he admits he would prefer a move to England or Spain.
"It is true last summer OL were very interested in me, but now I am only attracted by abroad. If I would leave, it would only be for a foreign club," Ribery told France Football.
"I know I am not very excited by a country like Germany. I prefer English and Spanish leagues.
"The clubs that make me dream? Manchester, Barcelona, Real Madrid, Arsenal, Chelsea and Milan.
"Money won't make me choose because there is money in any of those clubs. I just want to play, I don't want to change my club just to stay on the bench."
Marseille are currently just one point behindsecond-placed Lens following Sunday's 2-1 win over Monaco, and Ribery has not ruled out extending his stay at the club.
"The day I leave Marseille, I would like to leave with my head held high, serene," Ribery added.
"My priority is to play Champions League football next season and why not with Marseille? I will do my best for l'OM to reach it.
"Then we will see what happens by the end of the season."
Help us with a Sport and Betting Survey! Click here to take part now.