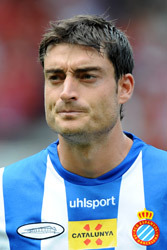 James Eastham previews Saturday's World Cup qualifier between Macedonia and Scotland. Click here!
New signing Albert Riera believes Liverpool can challenge for honours on all fronts, despite manager Rafael Benitez's warning the big-money takeover at Manchester City could upset the 'big four' cartel.
Spain winger Riera was unveiled at the Reds' Melwood training ground on Thursday and he immediately spoke of high expectations at Anfield.
"At Liverpool the most important thing is when you are on the pitch to think only about winning," Riera said.
"It is important to fight for everything – to fight to win the Premier League, the Champions League and the two cups. I am sure we will enjoy fighting for all of these titles.
"We want to challenge for everything until the last minute of the last game. I want to be in finals and to challenge for the Premier League as well because for this club it is very important to challenge for the league."
Benitez, though, is wary of a City side whose signing of Brazil star Robinho for a British transfer record on deadline day signalled their newly aspirations.
"You cannot just win the title by spending money but Chelsea won for two years spending big, big money. Afterwards Manchester United won spending lots of money too," Benitez said.
"If we are talking about spending money then maybe Manchester City will win the title this year. It is not just a question of money but if you have more money it is easier. If you don't have too much money, you must do the job as best you can.
"If we are talking now, maybe they (City) need time but if we talk in January, maybe they will buy five players… then you never know. But it is not just a question of 'I will invest more and I will win'. You cannot guarantee anything."
Riera's only previous experience of English football came with City during a six-month loan spell, but the player is convinced he is now better equipped to make an impact.
"It was different when I was at Manchester City – I came in January for the second part of the season and we were playing for mid-table," he added. "Also I was 22 and now I have three years more experience, which is very important in football.
"I have played in a UEFA Cup final and I have played international football so now I am prepared to be at a big club like this."
James Eastham previews Saturday's World Cup qualifier between Macedonia and Scotland. Click here!