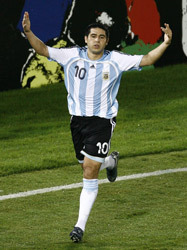 Aston Villa fresh from their 4-0 thumping against Blackburn in midweek, host league leaders Arsenal this Saturday. Click here for the latest betting odds!
Juan Roman Riquelme has completed his transfer back to Boca Juniors from Villarreal.
The Argentina playmaker said he was pleased to be back at the club after signing a 30-month contract until 2010.
"I'm having a really good day … I've come back to my home, my club and I'm going to be lucky enough to put on the shirt that I've missed a lot for several months," he said.
Riquelme fell out with Villarreal coach Manuel Pellegrini last year and has not played in the Spanish league this season. However, he has appeared in Argentina's four 2010 World Cup qualifying games, scoring four goals.
Riquelme returned to Boca on loan in February and helped them win the Libertadores Cup for the sixth time.
At the end of the five-month loan, Boca said they would like to sign the player but could not afford to bring Riquelme back permanently. However, a compromise deal has been agreed between they, Villarreal and the player.
Riquelme left Boca in 2002 to join Barcelona. He struggled to hold down a first-team place under Louis van Gaal, however, and moved to Villarreal the following year.
Aston VillaArsenal this Saturday. Click here for the latest betting odds!