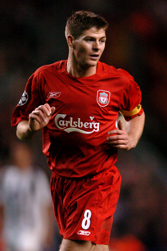 Help us with a Sport and Betting Survey! Click here to take part now.
Steven Gerrard beleievs that teams are afraid of playing Liverpool in Europe.
Liverpool came from behind to knock out Chelsea in the semi-finals and now face a repeat of the 2005 final against Milan.
Gerrard claimed: "We're everybody's nightmare as we never know when we're beaten. It's a great attitude to have.
"It doesn't matter whatever team we face. We haven't done well domestically but we are some side in Europe."
As well as Chelsea, Liverpool also knocked out holders Barcelona en route to another showdown with Milan.
They came from 3-0 down at half-time to beat Milan on penalties in the final two years ago.
"Lifting the cup crossed my mind as soon as we scored the last penalty against Chelsea," said Gerrard. "It would be magic to lift that trophy again."
"There is nothing worse for a player especially when the manager points to you and tells you are on a penalty.
"You need big players to stand up and take responsibility and our penalty-takers did."
Striker Peter Crouch added: "We are a side that get results in Europe.
"We are getting closer to Chelsea. In the league they are ahead of us and that's where we need to get to.
"But in the Champions League we are the form team. We have some league games left but we are looking forward to the final."
Help us with a Sport and Betting Survey! Click here to take part now.