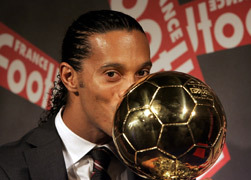 Ronaldinho has been named 2005 European Footballer of the Year.
The 25-year-old was hot favourite to claim the Ballon D'Or, having already won the 2004 Fifa World Player of the Year and the inaugural FIFpro award.
Chelsea midfielder Frank Lampard came second, while Liverpool's Steven Gerrard finished third.
"To be here with all those great players applauding me is a dream come true," said Ronaldinho after being presented with his award.
"This gives me motivation to keep working and try to emulate them.
"I have the chance to do for a living what I like the most in life, and that's playing football. I can make people happy and enjoy myself at the same time."
Ronaldinho was a key figure in Barcelona's title success, scoring nine goals.
He has continued his good form this season and even earned a standing ovation from the Bernabeu crowd in Barcelona's 3-0 win at Real Madrid little over a week ago.
Ronaldinho is the third Brazilian to win the award for performances at Barcelona, after Ronaldo in 1997 and Rivaldo in 1999.
The Ballon D'Or is voted for by European football journalists selected by French magazine France Football.
Voting in full
1 Ronaldinho Barcelona 225 points
2 Lampard Chelsea 148 points
3 Gerrard Liverpool 142 points
4 Henry Arsenal 41 points
5 Shevchenko AC Milan 33 points
6 Maldini AC Milan 23 points
7 Adriano Inter 22 points
8 Ibrahimovic Juventus 21 points
9 Kaka AC Milan 19 points
10 = Eto'o Barcelona 18 points
10 = Terry Chelsea 18 points
12 Juninho Lyon 15 points
13 Makelele Chelsea 8 points
14 =Ballack B Munich 7 points
14= Cech Chelsea 7 points
14= Drogba Chelsea 7 points
14= Riquelme Villarreal 7 points
18 Zidane Real Madrid 5 points
19 Buffon Juventus 4 points
20 = Carragher Liverpool 3 points
20 = Ronaldo Man United 3 points
Subscribe to World Soccer – The essential football magazine