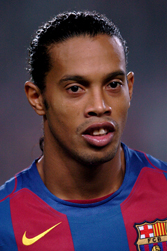 Who will be the next Permanent England Manager? Click here for the latest odds!
Barcelona president Joan Laporta has attempted to end speculation about the future of Ronaldinho, by insisting that the Brazilian playmaker is not for sale.
Ronaldinho's future at Barca has been the subject of intense speculation for some time as he has struggled for form and fitness this season.
Several Spanish sources claimed last week that he had already agreed terms with Chelsea, but Laporta claims that there have been no talks with any club about the former World Player of the Year.
The South American returned to the starting line-up against Deportivo La Coruna on Sunday and scored from the penalty spot as Barca won 2-1.
"We are not going to sell Ronaldinho. We are not in contact with Chelsea, Milan or any other team," said Laporta.
"We are counting on Ronaldinho and you could see tonight that he fought like all the rest of the players."
The 27-year-old Ronaldinho, who is in his fifth campaign with Barcelona, is under contract until the end of June 2010.
Over the weekend, the Brazilian reiterated he had no intention of leaving and was just concentrating on regaining his place in the Barca starting line-up.
"I'm not worried, I feel well, I am calm," Ronaldinho told El Mundo Deportivo.
"I stay, to fight for the team and obtain successes here. Here I am well and I am serene. I want to remain and fight for the squad."
Meanwhile, Ronaldinho's brother and agent Roberto de Assis says that they are looking to renew the 27-year-old's contract with the club.
"We have the complete intention to renew our contract with Barcelona," said de Assis.
"My brother does not have the intention to leave and go to Chelsea, or anyone else."
Who will be the next Permanent England Manager? Click here for the latest odds!