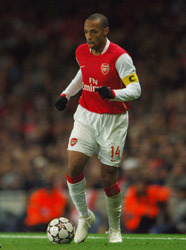 Ronaldinho has admitted he would relish the prospect of playing with Thierry Henry at Barcelona next season.
Samuel Eto'o said earlier in the week that Henry is the sort of player he would like "alongside" him next year and Brazilian Ronaldinho has now joined him in saying he would enjoy playing alongside the Arsenal striker.
"Any player in the world would like to play with him (Henry)," Ronaldinho said.
"He is a great player and I think he would adapt really well to the Primera Liga and our team's style of play.
"I personally love to watch him play, he has a lot of speed and he is a player that I have always liked.
"We both like to play one-on-one and surge forward."
Meanwhile, reports in L'Equipe claim that Arsenal manager Arsene Wenger may have met with Barcelona officials in Paris on Wednesday with regards to a transfer fee for Henry, rumoured to be around the €30million mark.