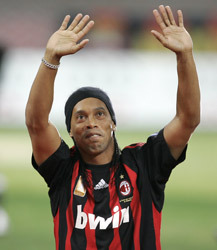 Gavin Beech has a 3/1 tip for tonight's huge game between Arsenal and Manchester City
Milan have confirmed that Brazilian playmaker Ronaldinho wishes to return to his homeland.
Milan boss Massimiliano Allegri has echoed owner Silvio Berlusconi in announcing he expects Ronaldinho, 30, to go back to South America, with home-town club Gremio the expected destination.
Allegri said at a press conference on Wednesday: "We are all sorry to lose a player of the quality of Ronaldinho.
"But he has made a life choice by going to Brazil."
Ronaldinho's current contract with Milan expires at the end of the season and, with the Rossoneri having already signed Antonio Cassano from Sampdoria, there appears to be no place for the former Barcelona star.
Brazilian media outlet Radio Globo have claimed Ronaldinho has been in Rio De Janeiro to sign a three-and-a-half-year deal with Gremio.
Gavin Beech has a 3/1 tip for tonight's huge game between Arsenal and Manchester City