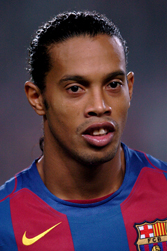 Barcelona's Brazilian forward Ronaldinho has been named the Fifa 2004 World Player of the Year award.
The 24-year-old edged out Arsenal's Thierry Henry and Milan striker Andriy Shevchenko to the prize.
Ronaldinho won the vote – by coaches and captains from international sides – with 620 points, while Henry had 552 and Shevchenko accumulated 253.
"I must thank my Barcelona colleagues because I could not have won it without them," said Ronaldinho.
"I am of course very happy to have won the award. Thierry Henry and Andriy Shevchenko are two great players, we could all have won the award.
"I feel very happy where I am at Barcelona and I will go on with my work in peace.
"I have everything I need at Barcelona, I am happy."
Henry admitted he was disappointed to finish runner-up for the second year running, but paid tribute to his two rivals.
He said: "If you do not win you cannot say you are happy but the other two are tremendous players.
"When you see what Shevchenko is doing in Serie A and Ronaldinho in Spain, they are the kind of players who make you jump off your seat.
"To be here two years in a row means I have been consistent for a long time and that really pleases me."