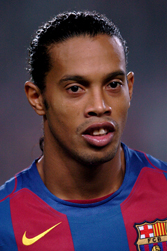 Ronaldinho is your choice as 2004 World Player of the Year.
Barcelona's brilliant Brazilian gained almost 29 per cent of the votes in our 23rd annual poll, ahead of Arsenal striker Thierry Henry, Andrii Shevchenko of Milan and Portugal's Brazil-born midfielder Deco.
The award is recognition of Ronaldinho's pivotal role in the revitalisation of Barcelona over the past 12 months.
His impact since joining the club from Paris Saint-Germain in July 2003 has been immense and deserves to be compared to that of his compatriot Ronaldo at the same club in 1996.
After Barca's poor start to last season, Ronaldinho inspired them to qualify for the Champions League; this season they have led from the front in the Spanish League, while their entertaining style of football has been carried over to the Champions League. Ronaldinho has contributed a series of crucial goals, including a late winner against Milan.
The 24-year-old joins an illustrious group of players who have won World Soccer's Player of the Year award, including his fellow Brazilians Ronaldo, Rivaldo and Zico, and former greats Michel Platini, Diego Maradona and Marco Van Basten.
Henry, an early favourite for this year's award after playing a key role in Arsenal's record 49-game unbeaten run, finished second with more than 22 per cent of the votes. Shevchenko, top scorer in Serie A last season, was third, with Deco, star of FC Porto's Champions League victory and who has since joined Ronaldinho at Barcelona, fourth.
Last year's winner, Juventus and Czech Republic midfielder Pavel Nedved, was fifth this time ahead of English teenage starlet Wayne Rooney and Inter's Brazilian sensation Adriano.
Jose Mourinho was the clear winner of the Manager of the Year award, recognition of his success in guiding unfancied Porto to their Champions League Final victory over Monaco, just a year on from their UEFA Cup triumph. Otto Rehhagel, the German who masterminded Greece's surprise success at Euro 2004, finished second, ahead of Arsenal manager Arsene Wenger.
English champions Arsenal ran Greece very close for the Team of the Year award, but the Greeks, 100-1 outsiders at the beginning of Euro 2004, were the marginal winners after their amazing success in Portugal. Despite the heavy vote for Mourinho in the manager category, Porto could finish only third.
Surprisingly, Argentina's Olympic gold medal-winning side and Brazil, Copa America champions, were seventh and ninth respectively.
PLAYER OF THE YEAR
1 Ronaldinho (Barcelona & Brazil) 28.6 per cent of votes
2 Thierry Henry (Arsenal & France) 22.2
3 Andrii Shevchenko (Milan & Ukraine) 12.6
4 Deco (FC Porto/Barcelona & Portugal) 10.2
5 Pavel Nedved (Juventus & Czech Republic) 3.5
6 Wayne Rooney (Everton/Man Utd & England) 2.6
7 Adriano (Internazionale & Brazil) 2.2
8 Frank Lampard (Chelsea & England) 2.0
9 Theo Zagorakis (AEK Athens/Bologna & Greece) 1.7
10 Milan Baros (Liverpool & Czech Republic) 1.5
others 12.9
MANAGER OF THE YEAR
1 Jose Mourinho (FC Porto/Chelsea) 35.5 per cent of votes
2 Otto Rehhagel (Greece) 26.4
3 Arsene Wenger (Arsenal) 10.0
4 Frank Rijkaard (Barcelona) 3.5
5 Rafael Benitez (Valencia/Liverpool) 3.3
6 Karel Bruckner (Czech Republic) 1.7
7 Didier Deschamps (Monaco) 1.3
8 Carlo Ancelotti (Milan) 1.1
9 Fabio Capello (Roma/Juventus) 0.8
10 David Moyes (Everton) 0.4
others 16.0
TEAM OF THE YEAR
1 Greece 25.1 per cent of votes
2 Arsenal 24.8
3 FC Porto 16.0
4 Barcelona 4.0
5 Milan 3.1
6 Czech Republic 2.6
7 Argentina Olympic Xl 2.2
8 Valencia 2.0
9 Brazil 1.7
10 Monaco 1.1
others 17.4