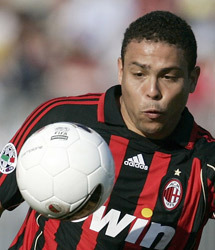 It's getting tight at the foot of the Premier League with around nine sides looking to avoid the three drop slots. Click here for all the betting
Milan striker Ronaldo claims that he has not contemplated the possibility of hanging up his boots.
The Brazilian ruptured tendons in his left knee in a recent game with Livorno and is facing at least nine months on the sidelines after undergoing an operation.
Ronaldo admits that he may be forced to retire, but revealed that the possibility of making a full recovery continues to motivate him.
"For now it's too early to talk about a decision, but I'm ready for this big challenge, which is returning to play," he told the Milan Channel.
"I'm feeling better, the worst is behind me. I don't have any more pain and now I'm even managing to walk better.
"There's little time left now before I can remove the cast."
It's getting tight at the foot of the Premier League with around nine sides looking to avoid the three drop slots. Click here for all the betting