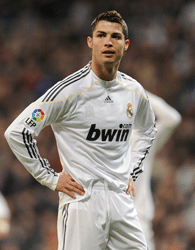 West Ham are a best price evens to be relegated after their 1-0 defeat to Birmingham on Sunday
Real Madrid general director Jorge Valdano claims Cristiano Ronaldo, rather than Lionel Messi, is the true heir to Alfredo Di Stefano.
Atletico Madrid boss Quique Sanchez Flores said after his side's 3-0 defeat to Barcelona that Messi was "the Di Stefano of the 21st century". Argentina-born Di Stefano was the principal inspiration behind Madrid's five European Cup wins between 1956 and 1960.
However, Valdano – who won the World Cup with Argentina in 1986 – believes Ronaldo is the man to perpetuate Di Stefano's legacy.
"It is not Messi," he said. "It is Cristiano Ronaldo, who significantly wears the same shirt as Di Stefano. He is a very important player who is set to make history at this club.
"We wouldn't swap Cristiano for anyone, although one must recognise that both he and Messi are two very high-quality players and it is a privilege to have them in La Liga."
Ronaldo scored twice in a 4-1 victory over Real Sociedad on Sunday and Jose Mourinho was full of praise for the player.
"Ronaldo's run in La Liga will be fantastic even if he doesn't score another goal in the remainder of the season," he said.
"I'd like to underline that. I say this to my men also. He always plays to the limit of his capabilities and ambitions. He gives his all for this team. It doesn't matter if he doesn't score. I don't have preference for him."
West Ham are a best price evens to be relegated after their 1-0 defeat to Birmingham on Sunday
Take advantage of the sales by saving up to 36% on a subscription to World Soccer