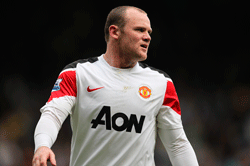 Tom 'The Power' Powell offers his expert betting opinion on Barcelona's game with Shakhtar Donetsk tonight…
Manchester United striker Wayne Rooney has accepted a Football Association charge for using offensive language, but not the automatic two-match ban.
The England international swore into a television camera after completing his hat-trick in Saturday's 4-2 win at West Ham.
The forward is set to miss the league game against Fulham and the FA Cup semi-final against Manchester City.
But Rooney's defence rests on his claim that the suspension is "clearly excessive".
The England star's submission will be heard by an FA disciplinary commission, although the verdict is not expected to be made public until Thursday.
Rooney could risk having his ban increased to three matches if his appeal is deemed to be frivolous, which would also rule him out of the league game at Newcastle United on 19 April.
Rooney quickly apologised for his actions after the victory over West Ham.
In a statement released by United on Saturday, the striker said: "I want to apologise for any offence that may have been caused by my goal celebration, especially any parents or children that were watching.
"Emotions were running high, and on reflection my heat-of-the-moment reaction was inappropriate. It was not aimed at anyone in particular."
The FA's decision has been questioned by Professional Footballers' Association chief Gordon Taylor.
In a statement issued on the PFA website, Taylor said: "Whilst the use of foul and abusive language is not condoned, there is an acceptance by all parties within the game that 'industrial language' is commonly used.
"It becomes an issue when directed towards match officials. However, when used in a spontaneous way in celebration or frustration then it is not normally expected to merit a sanction.
"If sanctions are to be imposed in such circumstances then this has to be done in a balanced and consistent manner, and participants made aware of this fundamental change in approach."
Tom 'The Power' Powell offers his expert betting opinion on Barcelona's game with Shakhtar Donetsk tonight…