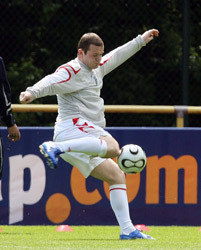 England to win the World Cup are 5/1 with some bookmakers. Get 8/1 via easyodds.com – Click here to find out more.
England striker Wayne Rooney appears to be winning his race to be fit to take part in the World Cup finals.
The forward, who is recovering from a broken metatarsal, was pictured attempting a scissor kick in England's final training session before flying to Germany.
England stated that Rooney has been training with the physios – but the latest bulletin suggest he is just about ready to return to training.
The Manchester United striker is expected to participate in England's training session at Buhlertal on Tuesday before returning to Manchester for the scan on Wednesday that will determine whether he plays in Germany.
Rooney seemed to have suffered no reaction to his injury as he undertook training with England team physiotherapist Gary Lewin.
But according to The Sun newspaper, United manager Sir Alex Ferguson was unhappy at seeing his player risking a recurrence of the injury.
Ferguson has complained on a number of occasions about the unrealistic expectations being placed on Rooney and the dangers of rushing him back to soon.
England coach Sven-Goran Eriksson refused to make any predictions about Rooney's progress until the player has the vital scan on Wednesday.
"I think there's been said so much about Rooney, let's wait until tomorrow afternoon or Thursday morning," Eriksson said.
"I think he looks very good. I don't really have any other news about him. Let's wait as, very soon, we will know what is going to happen about him."
Despite Rooney's progress, former England and Manchester United skipper Bryan Robson has expressed concern at the apparent speed of Rooney's recovery.
"It is up to the medical staff to say no," Robson said.
"You are risking the rest of your career if you have a pin in a bone and go back too early and you shatter the bone.
"That could end your career and we don't want that."
"Wayne is our most creative, best all-round goalscorer we have.
"He has a great attitude to football and will want to play. Everyone has to be patient.
"Not being able to run for six or seven weeks is going to take the edge off his game, but fingers crossed I hope he gets there."
Rooney suffered the broken metatarsal in United's defeat by Chelsea on 29 April and was initially considered unlikely to make the tournament.
However, his recovery now seems to be ahead of schedule and England manager Sven-Goran Eriksson remains confident Rooney will be able to play some part.
Tottenham forward Jermain Defoe travelled with the England party on Monday and is on standby should Rooney's scan show he is unfit.
England to win the World Cup are 5/1 with some bookmakers. Get 8/1 via easyodds.com – Click here to find out more.