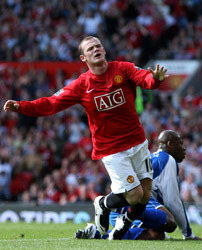 Euro 2008 Top Goalscorer. Click here for the latest odds!
Manchester United striker Wayne Rooney made a formal apology to his former Everton boss David Moyes in the High Court and agreed to pay undisclosed damages over claims made in his autobiography.
Everton manager Moyes sued for libel after the striker published his autobiography "Wayne Rooney—My Story So Far", in 2006.
The book claimed that Moyes had leaked to the press confidential information between the pair.
A writ said the comments had injured Moyes' professional and personal reputation and caused distress.
Rooney, together with his co-author Hunter Davies and publisher, HarperCollins, agreed to pay Moyes damages.
According to reports, the amount could be as high as £150,000 pounds ($295,000), as well as his legal costs, estimated at £400,000.
"All defendants accept that the allegation was untrue and sincerely apologise to Mr Moyes for the distress and embarrassment caused,"Sarah Toolan, solicitor for the defendants, said in court.
At a brief hearing at London's High Court, Moyes' solicitor, Edward Parladorio, told judge Mr Justice David Eady: "The book referred to a private meeting with Mr Moyes where Mr Rooney stated his intention to leave Everton and the city of Liverpool by reason of intense press coverage of his personal life and its effects on Mr Rooney and his fiancee Coleen McLoughlin.
"Mr Moyes was accused in the book of immediately leaking the contents of that private and confidential conversation to the Liverpool Echo, with the result that an account of the meeting appeared in the next day's issue.
"The book accused Mr Moyes of a serious breach of trust towards a young player under his management. In fact, the allegation was wholly untrue.
"Mr Moyes was not the source, direct or indirect, of anything in the article. There was no breach of confidence or betrayal of trust by Mr Moyes."
In a written statement, Moyes added: "I am glad that these issues have now been resolved and that my name has been fully cleared in this matter.
"Anyone who knows me well would, I hope, regard me as a man of honour and integrity. We have now moved on and I wish Wayne and his family all the best for the future both on the field and off it."
He said his damages would be donated to the Everton Former Players' Foundation.