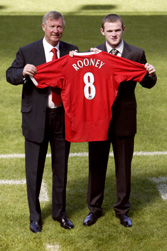 Wayne Rooney is set to make his first appearance for Manchester United tonight against Turkish side Fenerbahce in the Champions League.
Sir Alex Ferguson, who in the wake of Roooney's arrival, will not be allowed to make another big-money signing until 2006, is set to give a debut to the 18-year-old.
Rooney has not even played a reserve game in three months since breaking a bone in his foot at Euro 2004, but Ferguson is convinced he is ready to play against the Turks.
"The Champions League will not hold any fears for him. If I did not think he could perform at that level I would not have bought him," Ferguson said.
"I am just mulling over whether to start him or put him on the bench," said Ferguson.
"Maybe putting him on the bench would be the fairest thing to do. Nonetheless, he is going to be involved."
"He has come to a club where there a lot of improvers in the team, players who practise a lot," Ferguson said.
"There is a lot of ambition about the club and hopefully that will help Wayne. I feel we are ready to progress as a team.
"Ronaldo for one is improving all the time and I cannot speak highly enough of the boy. He has been absolutely fantastic.
"The great thing he has is courage, which is unbelievable. The great players have all got that quality.
"We have got good young players and over the next few years you will see that."
"In three to four years' time we might see the full article," he said.
"Then we can say this boy has been a great investment. The thing he has to get is consistency and there are things he needs to learn.
"One of those things is tactics. No player I know goes forward without practising."