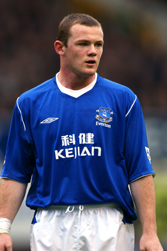 Everton striker Wayne Rooney is expected to reject the club's offer of a new contract, according to reports.
Everton have offered the 18-year-old forward a deal worth £50,000 a week, but sources close to the player claim that sum includes performance-related bonuses and given the club's recent form (they finished 17th in the Premier League last season) it appears unlikely Rooney would earn the headline figure.
Moreover, it is understood that Rooney's advisers, who submitted a list of 50 questions to the club regarding the new offer, have yet to hear back from Everton.
If Rooney rejects Everton's offer there will be no shortage of clubs interested in securing the services of one of Europe's brightest talents. However, whether any will be prepared to match Everton's £50m valuation, seems debatable. Realistically, Everton, with debts approaching £40m, may be forced to accept a deal closer to £20m – a figure which would certainly awaken the interest of Manchester United.
Rooney will undergo a second scan on his broken metatarsal later today.
The 18-year-old reported back to Goodison Park on Wednesday ahead of Everton's 10-day pre-season tour of the US, which begins on Friday. Although Rooney will not be fit to play, the striker could still join his team-mates on their US tour.