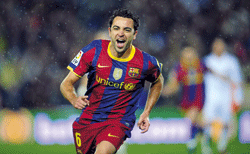 Joe Kiddle gives you his top tips for Saturday's non-televised Premiership action…
Barcelona playmaker Xavi says he would 'love' Wayne Rooney to move to Camp Nou and also expects Cesc Fabregas to eventually return to the club where he began his career.
Spaniard Xavi, who finished third in the 2010 Ballon d'Or, believes that Rooney possesses the ability neccesary to fit into Pep Guardiola's team.
Rooney has spoken of his admiration for defending Primera Liga champions Barcelona in the past and he stated that their 5-0 win over Real Madrid in November was the best performance he had ever seen.
Xavi, when told of the praise from the England striker he was happy to return the compliment.
He said in The Guardian: "Rooney is extraordinary, he could play for Barcelona.
"And before people imagine headlines like, 'Xavi says Rooney to join Barcelona' – although, I'd love him to! – what I mean is that he's our kind of player."
Xavi is preparing to face Arsenal in the knockout stages of the UEFA Champions League next week and the fixture will bring inevitable speculation about the possibility of Fabregas returning to Camp Nou.
Xavi, a fellow product of Barcelona's youth system, understands Fabregas' desire to go back to Spain and thinks it is inevitable that the move will eventually materialise.
He said: "If I'd ever gone to another club, I'd have been thinking about Barcelona, the link is strong. The same is happening to him.
"But now there's a problem, now he's expensive. But I think that a footballer ends up playing where he wants. He has to end up here."
Xavi, 31, has also rated Rooney's United team-mate, Paul Scholes, as the best player in his position in the past two decades.
He said of the Englishman: "A role model. For me, and I really mean this, he's the best central midfielder I've seen in the last 15, 20 years.
"I've spoken to (former Liverpool and current Real Madrid midfielder) Xabi Alonso about him. He's spectacular, he has it all, the last pass, goals, he's strong, he doesn't lose the ball, vision.
"If he'd been Spanish he might have been rated more highly. Players love him."
Joe Kiddle gives you his top tips for Saturday's non-televised Premiership action…
Take advantage of the sales by saving up to 36% on a subscription to World Soccer