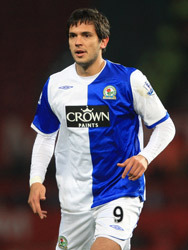 Chelsea move two points off leaders Man Utd, after beating Boro, but Liverpool and Arsenal can only draw. See the latest outright betting.
Blackburn Rovers striker Roque Santa Cruz has reiterated his desire to reunite with Mark Hughes Manchester City.
The Paraguayan international has the been the subject of a number of failed bids by City this month, as Blackburn insist they do not want to sell.
According to reports, Manchester City have made one last attempt to persuade Rovers to sell Santa Cruz by submitting an improved £18.5m bid last night.
Santa Cruz is desperate to get his move to Eastlands in order to link up with Hughes – who brought him to England from Bayern Munich.
"While I'm at Blackburn I can't talk to anyone at City," he is quoted as saying in the Daily Telegraph.
"I only know what everyone else knows: that they are interested in me but that they haven't yet come to an agreement with Blackburn.
"My agent has been contacted by other clubs, but the fact is that Mark Hughes is a manager I know. He knows me, and I know what he expects."
Santa Cruz played down comments credited to him from a Paraguayan radio interview, which claimed the striker had a £20million clause in his contract.
"There were some things quoted from that radio interview in Paraguay that were not true. And some things must also stay between the club and the player," Santa Cruz said.
"Everything is out my hands. I said already once my thoughts on the situation and I think that was enough. I didn't want to keep going to the press all the time. I have stated my position.
"Every player wants to have the opportunity to play in Europe and play for the bigger clubs. I'm no different. I want to be winning things and I want to be playing in Europe.
"But let's make it very clear, saying that does not mean I don't appreciate being at Blackburn or that I'm not happy here.
"The main reason why I haven't said anything [to the English press] is because I am very sensitive to the fans and I don't like to be talking all the time about bigger clubs. I respect the Blackburn fans a lot. So I am leaving it entirely up to the two clubs to sort out."
Santz Cruz insisted he has no issue with Rovers and confirmed he was very happy at Ewood Park – but he just wanted the opportunity to move to a bigger club.
"I have never had a problem with anything at Blackburn. I get on with everyone at the club. I have said right from the start that I love Blackburn Rovers," he said.
"It might seem strange, like two opposite things, that I can love Blackburn but I also want to go on and play for a bigger team and achieve more. If nothing happens in the transfer season then I will be happy to stay here and work hard to move forwards.
"I know that [Manchester City] are a team looking to become big in the future," he said.
"They have a lot of ambition, they are looking to bring in some big players, and are aiming for the Champions League."
Chelsea move two points off leaders Man Utd, after beating Boro, but Liverpool and Arsenal can only draw. See the latest outright betting.