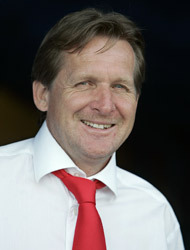 Community Shield Betting – click here for the latest betting odds!
Real Madrid coach Bernd Schuster believes it is a "shame" that Manchester United's Cristiano Ronaldo has decided to stay in England, but says he respects the player's decision.
The Spanish champions have been involved in a very public pursuit of Ronaldo all summer, but in the end the player opted to stay at Old Trafford.
However, the affair has finally come to an end with Ronaldo announcing he is set to stay with the Premier League and European Champions for one more season at least.
"You have to respect his decision," admitted Schuster.
"He was free to do what he wanted and it's a shame that he isn't coming to us because he's a player who would really have improved this great group. But hey, it doesn't matter. We've got a great group to get started on an important league campaign and fight for all the objectives we've set. It's a decision we have to accept."
On Monday Madrid made their first, and according to Real president Ramon Calderon "possibly last", signing of the summer with the arrival of Rafael van der Vaart.
"We've already discussed the fact that if we focused too much on Cristiano Ronaldo and hoped for a lot then we could have a problem, especially if what's happening now happened, if he didn't come," he continued in Spanish newspaper Marca.
"Now we've signed Van der Vaart and in three months we'll have a new signing in the shape of [the injured Wesley] Sneijder. There's no need now to panic and say we should sign such and such because we really only need players who can improve this group. And for a team like Real Madrid that's difficult."
Less concerned by Ronaldo's non-arrival was Real captain Raul.
"Cristiano has said it all now. He's not coming and that's the end of it," said Raul.
"He said it all himself, and as I said a few days ago with the group we have here we can aspire to achieve all our objectives. There's a great group here, both in terms of football and the personalities in the group, and we're in the right condition to fight for everything. It's his decision, it wasn't to be and now we get on with it."
Community Shield Betting – click here for the latest betting odds!