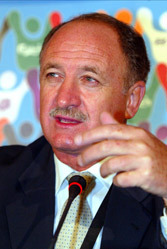 Acccording to reports in the British media, Luiz Felipe Scolari has been offered the job of England manager and is discussing terms with the Football Assocation.
FA chief executive Brian Barwick has flown to Lisbon to arrange out a deal with Portugal's Brazilian coach.
This was Scolari's third interview. In his main interview with the FA two weeks ago, Scolari impressed with his grasp of tactics.
Scolari, 57, who guided Brazil to victory in the 2002 World Cup, is out of contract after the 2006 finals.
Scolari has a gentleman's agreement with the Portuguese FA not to commit himself to another position until his current deal expires in July.
The FA board is due to meet again next Thursday and had hoped to be in a position to unveil its selection by then.
Scolari's case has been backed within the FA by Arsenal vice-chairman David Dein. His appointment is a victory for Dein, the Arsenal vice-chairman and FA dignitary who was not even a member of the FA sub-committee charged with finding Sven-Goran Eriksson's successor.
Scolari's appointment will come as a blow to those within the FA who had hoped for a British manager. The FA has also held talks with Middlesbrough boss Steve McClaren, Bolton's Sam Allardyce, Alan Curbishley of Charlton and former Celtic boss Martin O'Neill.
Scolari has helped to knock England out of their past two major tournaments – with Brazil in the 2002 World Cup quarter-finals, and with Portugal at the same stage in Euro 2004.
Scolari has twice won the Libertadores – the South American championship – and took hosts Portugal to the final of Euro 2004, where they lost to Greece.
Subscribe to World Soccer – The essential football magazine.