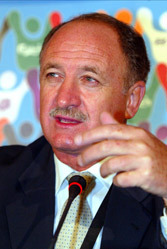 Luiz Felipe Scolari appears to have ruled himself out of the running to become the next England coach.
However, there is still some confusion as to whether he has rejected the job.
"The English FA is going to choose a name. My name isn't one of them because I'm closing this matter here," he said.
"I was very pleased they considered me, but definitely at this time I want to draw a line under this matter."
Tipped in to become Sven Goran-Eriksson's successor, Scolari admitted he was shocked by the scale of media interest over the last few days.
"I don't want anything more to do with this England matter because in the space of two days… my life was invaded, my privacy was disrupted," said Scolari.
"There are 20 reporters outside my house now. If that is part of another culture, it is not part of my culture."
The Football Association reacted by saying it would "reflect" on Scolari's statement before making any further comment.
But it admitted that the Brazilian contacted the FA ahead of his announcement to tell them he was pulling out and it will now consider its options.
"Luiz Felipe Scolari this afternoon made The FA aware of his intention to release a statement regarding the England head coach position," said a statement on the FA's official website.
"It is no secret that Mr Scolari is one of the candidates that the FA has spoken to as part of the recruitment process.
"We will now reflect on his announcement before making any further comment as we move forward with the process."
After making his statement, Scolari hinted that he may stay with Portugal after this summer's World Cup.
"I am committed to the Portuguese FA until the end of the World Cup and maybe longer," Scolari said.
"In the last few days when I was not even the manager of England my freedom was taken away from me and that is not the coaching I am used to.
"I don't want to be a part of it."