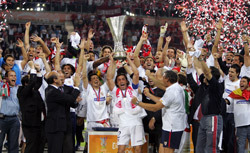 Sevilla coach Juande Ramos was elated following his side's triumph in the UEFA club final.
The success was the club's first European trophy – and their first major honour since 1948, prompting Ramos to declare Seville "the new capital of European football".
"It was a terrific match, really sensational, and the 4-0 scoreline is quite emphatic," said Ramos.
"It has been a long season, with many ups and downs, and now at the end we claim our reward. We have been through a lot but if you can see the joy of the fans then it has all been worth it.
"We have achieved something that has never been achieved before by Sevilla. It is not for me personally to judge this season – people can make their own judgment on what they have seen and can say if they feel the job has been done right. "
Luis Fabiano has not had as good a season as anticipated, yet he had a great game tonight. But I do not want to talk about individuals as I want to underline the collective work that has made all this possible.
"Obviously I am very happy for the whole club and I see this as recognition for the tough job we have done. Right now, I have my family in mind as they always supported me in the harder days.
"Seville is the capital of European football now. At least for one week we are at the top."
For his opposite number Steve McClaren, there was the disappointment at the scale of Middlesbrough's defeat.
"It was a disappointing evening, especially as we did not perform the way we know we can. The first half we did not bring what we normally do because we were nervous," saidMcClaren.
"The second half we opened up and tried to score, we had three good chances and I think we deserved a penalty, but we didn't get the reward. Still, I am proud of my players – they should celebrate as it has been a long way to get here. It might be disappointing tonight, but it is still a huge achievement. I am proud to have been their manager and to have reached the final together."
The game was McClaren's final game in charge at Middlesbrough before he departs to become the next England manager.
"I want to thank them for the past five years together. It is sad for me to leave them, but life goes on. The final was also the final of my Middlesbrough career, but I leave them with good resources to build on. I have enjoyed every moment, with many ups and down, and we will get over this.
"My congratulations to Sevilla. They have a great team who are technically very good. They were the best side we have played this campaign. I don't think they were four goals better – that is disappointing – but on the night we could not perform like we know we can."