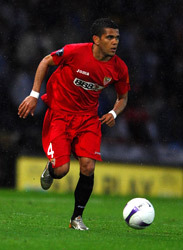 Sevilla have dismissed speculation claiming Chelsea had submitted bid for Daniel Alves.
The Premier League club are known to be in the market for a right-back and had reportedly tabled a £13m bid for the Brazilian full-back.
However, Sevilla have denied receiving an offer for Alves.
"We have not received any offers for Daniel Alves," Sevilla president Jose Maria del Nido told the club's official website.
"I wish to reiterate that no-one has shown an interest in him, hence, we cannot speak about something that hasn't taken place."