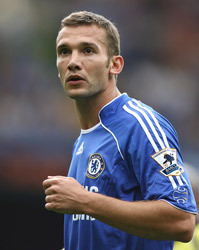 Andrii Shevchenko's agent has ruled out the possibility of the striker returning to Italy.
Shevchenko has been linked with a possible move back to former club Milan after a difficult first season in England.
However, Shevchenko's agent, Stephen Curnow, believes the striker has a point to prove and will be staying at Chelsea.
"Andrii was disappointed with his first season, but he is determined to help bring success to the club next season," Curnow told the Daily Star.
"It has never been his desire or on the agenda to move away from Chelsea."