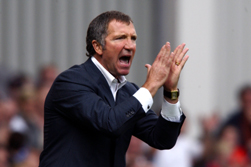 Graeme Souness has admitted that there was no way he could not turn down the chance to manage Newcastle United.
Souness, who left Blackburn on Monday to succeed Sir Bobby Robson as the new man in charge at St James Park, felt felt compelled to take up the position.
"How can you turn down a club like Newcastle," he told The Sun.
"I am 51 and been in management for a long time. But at my age, this could be the last opportunity for me to join one of the biggest clubs in the country."
"That is why I had to say yes. I explained my reasons to Blackburn. They were not very happy with my decision but I think they understood how I felt.
"I enjoyed my time there and was prepared to end my career with them before Newcastle came in.
"In football, events can happen suddenly and you have to react quickly – if I had said no I might have regretted it for the rest of my life."
"No disrespect to Blackburn – but I am joining a world-famous club which is desperate for success. I can't help but be excited at the prospect of joining one of the biggest clubs around.
"It is one of the best-supported clubs and everything is in place for it to be successful. I hope I can be the one that brings success to the fans.
"The prospect of trying to help them achieve their goals is a very exciting one.
"I am going to take a week's gardening leave and will start at Newcastle next Monday. It would hardly have been appropriate to be in charge on Saturday when they are playing Blackburn!"
Blackburn chief executive John Williams dismissed suggestions that Rovers had been discussing sacking Souness prior to his abrupt departure..
"No, that's not right at all," he told BBC Radio Five Live.
"We had four decent years from Graeme. When he came to the club we were in trouble in what was then the First Division.
"It is true that last season was disappointing, particularly at home. We won lots of away games but it was poor for the home fans.
"That obviously starts a bit of speculation and we hadn't got off to the greatest of starts.
"We had an enjoyable time with Graeme and when the news came through to us on Sunday, it came as something of a shock to us."