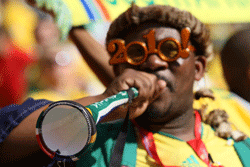 Who will win the 2010 FIFA World Cup? See all the latest outright betting on every nation…
South Africa's World Cup organising chief Danny Jordaan has admitted that the vuvuzela may be banned from inside stadiums after complaints from broadcasters and supporters.
The constant sound of the horn-like instrument has so far drowned out much of the atmosphere-generating singing usually associated with games.
And Jordaan, when asked if he would get rid of them, told BBC Sport: "If there are grounds to do so, yes.
"We did say that if any land on the pitch in anger we will take action."
France captain Patrice Evra even went as far as blaming the vuvuzelas for his side's poor showing in their opening group game against Uruguay.
He said: "We can't sleep at night because of the vuvuzelas. People start playing them from 6am.
"We can't hear one another out on the pitch because of them."
Jordaan said they were doing all they could to minimise the impact.
"We've tried to get some order," he continued. "We have asked for no vuvuzelas during national anthems or stadium announcements. It's difficult but we're trying to manage the best we can.
"We've had some broadcasters and individuals [complaining] and it's something we are evaluating on an on-going basis."
Jordaan admitted he was not a huge fan of them himself. "I would prefer singing," he said.
"It's always been a great generator of a wonderful atmosphere in stadiums and I would try to encourage them to sing.
"In the days of the struggle (against apartheid) we were singing, all through our history it's our ability to sing that inspired and drove the emotions."
Who will win the 2010 FIFA World Cup? See all the latest outright betting on every nation…
Make sure you don't miss any of the last news and articles from World Soccer. Subscribe to World Soccer today and take advantage of our all 50th anniversary offer, saving up to 50%!