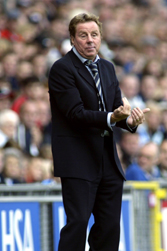 Southampton have confirmed Harry Redknapp has taken over as manager.
The former Portsmouth boss replaces Steve Wigley, who leaves after just one win in 14 league games in charge.
Redknapp said: "I am delighted to join Southampton. The squad is better than their position suggests and I look forward to getting them up the table."
Chairman Rupert Lowe confirmed that Wigley was asked to stay at the club but decided to make a "clean break".
Redknapp, 57, quit his Fratton Park position on 24 November and vowed not to jojn arch-rivals Southampton: "I will not go down the road – no chance," he said at the time.
However, despite his volte-face, Redknapp said he did not anticipate any problems.
"Both sets of fans are full of passion and appreciate the sort of football I play," he said.
"I can't think of a similar situation on the south coast but I don't see a problem with the vast majority of either fans.
"The game on 23 April (when the two clubs next meet) will be a cracker."
Redknapp left Portsmouth claiming he needed a break from football, though many believed he was upset with chairman Milan Mandaric's decision to bring in Velimir Zajec as executive director.
Southampton chairman Lowe said he regretted the departure of Wigley, who replaced Paul Sturrock just two games into the season.
"I am unapologetic about giving young managers a chance, and always hope they succeed," he said.
"However I have a responsibility for the future of the club and together with the board felt that a change at the top was the only way to turn our season around."