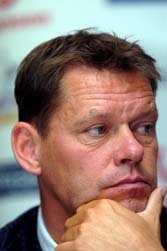 Tottenham look set to submit an official complaint to the Premier League after alleging that Chelsea made an illegal approach to their Sporting Director Frank Arnesen.
Chelsea are believed to have offered Tottenham two players will as part of a compensation package to facilitate Arnesen's switch to Premiership champions Chelsea, but Tottenham have rejected the offer.
According to reports, Robert Huth and Glen Johnson were made available to avert the possibility of a Premier League probe, but with Spurs have given Chelsea until 1200 BST on Friday the dispute looks set to remain unresolved.
The deadline was set after Spurs were angered at seeing photographs of Arnesen on Blues owner Roman Abramovich's yacht. Abramovich is reported to have flown to London to try to broker a peace deal.
"Having seen the pictures we've contacted Chelsea and set them a deadline," said a Spurs spokeswoman.
"If we don't reach agreement by noon on Friday, we'll make a formal complaint."
Spurs suspended Arnesen on 4 June after claiming Chelsea approached him without consent.
Chelsea, though, have insisted they followed Premier League rules.