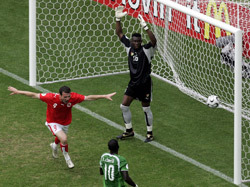 Group G
Switzerland 2-0 Togo
Discuss this game on our new Forum
With the World Cup in full flow click here to see the latest odds on every match.
Togo are out of the World Cup after their 2-0 defeat to Switzerland in Dortmund.
The win means that Switzerland move to the top of Group G, although with South Korea to face and with France yet to meet Togo, they are not guaranteed a place in the knockout stages.
Togo's players had threatened to boycott this game in a continuing dispute over pay. However, Fifa acted in a conciliatory role and it appears as if players have been paid overdue bonuses.
Switzerland coach Kubi Kahn kept faith with Raphael Wicky, with Daniel Gygax coming in at the expense of Marco Streller.
The first real chance of the match fell to Mohamed Kader who fired straight at Zuberbuhler. It was a warning to Switzerland, that despite Togo's well-chronicled troubles, they posed a significant threat where it mattered.
In the early stages Togo looked the better team and Mohammed Kader and Adebayor were proving to be a real handful for the Swiss defence.
It took Switzerland 16 minutes to get their act together but when they did they had little trouble carving open the Togo defence. A deep ball from Magnin reached the unmarked Barnetta whose cushioned pass set up Frei for a simple tap-in.
Dossevi should have taken advantage of a Philippe Sendeross blunder but with only the keeper to beat he fired into the side netting.
Moments later, Adebayor tumbled spectacular under a challenge from Degen and it looked like he had a good case for a penalty. But the referee waved play on. Phister, on the bench, shared his players' dismay at the decision.
Togo were in the ascendancy at this stage and only a last ditch challenge from Muller denied them a deserved equaliser.
Despite holding the one-goal advantage Switzerland will have been grateful to hear the half-time whistle as Togo had dominated proceedings for most of the half.
Kuhkler, concerned at the lack of invention from his players in the opening period, introduced Hakan Yakin after the break, and the playmaker had an immediate impact, firing just wide with a long-range effort. His colleague Barnetta also came close but his dipping volley was tipped over by Agassa.
Agassa, who after the break was by far the busier keeper, had to be at his best on the hour mark when he charged out to smother a Hakan Yakan effort.
At the other end, Adebayor continued to probe for Togo, but the final ball was usually disappointing and Switzerland were starting to look comfortable for the first time in the game.
Togo's hopes were finally extinguished when the substitute Lustrinelli picked out Barnetta on the edge of the penalty area and he buried his right-footed drive into the far corner of the net.
A deserved three points for Switzerland, although on this evidence the best they can hope for is a place in the knockout stages. Anything beyond the last 16 looks well out of their reach.
For Togo, playing in their first ever World Cup finals, it has been a tournament to forget.
Teams
Switzerland: Zuberbuhler, Muller, Philipp Degen, Senderos, Magnin, Barnetta, Vogel, Wicky, Cabanas, Frei, Gygax.
Subs used: H Yakin 46 (for Gygax) Streller 77 (for Cabanas), Lustrinelli 87 (for Frei).
Bookings: Vogel 92.
Togo: Agassa, Nibombe, Tchangai, Toure, Agboh, Dossevi, Cherif-Toure, Romao, Forson, Adebayor, Mohamed.
Subs used: Salifou 25 (for Agboh), Senaya 68 (for Dossevi), Malm Mlm (for Cherif-Toure).
Bookings: Salifou 45, Adebayor 47, Romao 52.
Referee: Carlos Amarilla (Paraguay).
Scorers:
Switzerland: Frei 17, Barnetta 88.
With the World Cup in full flow click here to see the latest odds on every match.