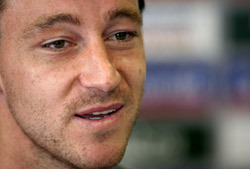 Sepp Blatter is the 1/2 favourite to be re-elected as FIFA President, with Mohamed Bin Hammam currently a 5/2 shot…
John Terry has admitted his reappointment as England skipper may not be universally welcomed by supporters.
Terry was dropped from the role amid allegations over his private life 13 months ago, but has returned in place of the injured Rio Ferdinand.
"I'm not going to be everybody's cup of tea," stated Chelsea's Terry, who also claimed to be "very much wiser now".
Ferdinand, said to be unhappy with coach Fabio Capello's handling of the matter, called Terry to back his leadership.
Ahead of Saturday's Euro 2012 qualifier against Wales in Cardiff, Terry said: "Rio phoned me, which was a very nice touch and goes to show what a great man he is.
"We had a 10-minute conversation and he wished me well. He cares about England.
"He was naturally disappointed, but said the most important thing was to keep winning.
"I feel for Rio. Even though I've got the armband back, I can see myself we've got leaders in dressing room.
"The guys have still got a massive input in and around the dressing room."
Terry relinquished the England captaincy to Ferdinand in February 2010 after reports he had an affair with the ex-girlfriend of then international team-mate Wayne Bridge.
Despite the controversy surrounding his reinstatement, Terry insisted that he has the backing of the whole England squad.
"When the manager confronted the team on the training pitch [to tell them], he asked the players if they had any questions," he added.
"Nobody spoke. Nobody said a word to the manager, nobody said a word to me. Respect for the players around me and the manager has always been there."
Sepp Blatter is the 1/2 favourite to be re-elected as FIFA President, with Mohamed Bin Hammam currently a 5/2 shot…
Take advantage of the sales by saving up to 36% on a subscription to World Soccer