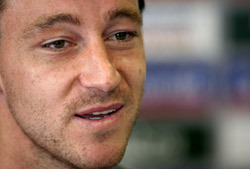 Arsenal have drifted for the title after losing 3-1 to Man United on Sunday – latest Premiership betting here
Chelsea boss Carlo Ancelotti says he will allow John Terry time off if the defender asks for it following revelations about his private life.
The Italian retained the 29-year-old as captain in Tuesday's 1-1 draw with Hull, but Ancelotti conceded: "If he needs a holiday I will give him a holiday.
"It is an issue for me and John Terry, it is not your problem, I think.
"For him, nothing has changed. He has played a very good game and every game he is leading very well. He is doing his best every game."
However, Ancelotti was keen to play down suggestions that the fallout following the revelation that Terry had been involved in a relationship with the girlfriend of former team-mate Wayne Bridge, had affected the Chelsea dressing room.
"The atmosphere in the team is the same. No change," he added.
"I have never had a discussion with him about the accusations. I like to speak to my players but I don't like to speak about this. It is not a question I want to speak about here.
"Nothing can disturb our concentration in this competition. I think that Chelsea are focused for every game.
"Sometimes we play good football and sometimes we have more difficulty but the concentration is always on top."
However, Ancelotti was content to take a point back to Stamford Bridge after conceding Chelsea were not at their best at the KC Stadium.
"We did our best but it was a tough game," he said. "Hull played a good game and it's a good result.
"We don't have to be disappointed, sometimes it can happen against a small team, we can draw. We are at the top of the table and have to look forward.
"We are in a good position now. We know it will be a long race until the end of the season and for now we are happy with two more points. It was an opportunity but it is impossible to win every game."
Hull boss Phil Brown admitted that the level of interest in Terry's appearance had taken him aback.
Arsenal have drifted for the title after losing 3-1 to Man United on Sunday – latest Premiership betting here
Make sure you don't miss any of the last news and articles from World Soccer. Subscribe to World Soccer today and take advantage of our all 50th anniversary offer, saving up to 50%!