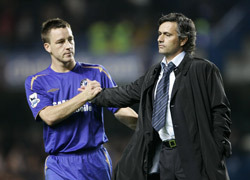 Chelsea and England captain John Terry has ended months of speculation about his future by signing a new five-year deal.
The 26-year-old centre-half had two years left on his current contract but the new deal means he will be staying at Stamford Bridge until 2012.
Talks had reached an impasse earlier this summer, but discussions continued during Chelsea's tour of Los Angeles earlier this month.
"I'm really happy this has now been concluded," Terry told the club's official website.
"There has been a lot of speculation but these things take time and I never had doubts that I wanted to stay at Chelsea and that the club wanted me to stay.
"I hope the fans can see that we are all trying to build something special here, both for now and for the future, and I want to be a part of that. I have been at Chelsea all my career and have the privilege of being captain.
"Now it's time to look forward to the new season which we are all very confident about."
Chelsea chief executive Peter Kenyon was delighted that Terry had finally penned a new deal.
"This is an important day for Chelsea. This was the right deal for us and for John," said Kenyon.
"As a club we are committed to try and keep our players together on long term deals and this was a natural progression from last season when other players also committed themselves for the long term.
"As captain, John is clearly a key player for Chelsea and also a great symbol of the club so naturally we are pleased this has been agreed."