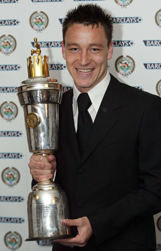 Chelsea's John Terry has been named the 2005 Professional Footballers' Association (PFA) Player of the Year Award.
The defender edged out team-mates Frank Lampard and Petr Cech, 2004 winner Thierry Henry, Steven Gerrard and Andrew Johnson.
The PFA Young Player Award went to 19-year-old Manchester United and England striker Wayne Rooney.
Terry is the first Chelsea player to receive the award, and he admitted he was susprised to have been voted the best player of the year by his felllow players.
"It is unbelievable and the ultimate accolade to be voted for by your fellow professionals whom you play against week-in and week-out," said Terry.
"You just go out there and try to give it your best, and for them to show their appreciation and vote for me is fantastic.
"For Petr, Lamps and myself to be voted in, it was important that one of us won it.
"It has been a real special season with Chelsea and this just adds to it.
"I want to thank all of my team-mates, because without them this would not have happened.
"It is my first year as captain and they have helped me a lot, on and off the pitch."
Terry is the first defender to win the award since Paul McGrath in 1993 and the first Englishman to do so since Teddy Sheringham in 2001.
England coach Sven-Goran Eriksson paid a glowing tribute to both Terry and Lampard.
"They are great players who could play in any team in the world," he said.
Terry was joined by three Chelsea colleagues in the Premier League's Team of the Year.
Goalkeeper Cech, midfielder Lampard and winger Arjen Robben.
The Young Player of The Yerar award went to Manchester United's Wayne Rooney.
"Obviously for any footballer to receive any award is a great achievement, and especially so when it is one voted for by all your fellow professionals," said Rooney.
"As a footballer, you are always looking to improve and learn from the people around you.
"If I keep learning and keep my feet on the ground, then hopefully I can start winning more trophies."
Premier League team of season:
Petr Cech (Chelsea)
Gary Neville (Manchester Utd)
John Terry (Chelsea)
Rio Ferdinand (Manchester Utd)
Ashley Cole (Arsenal)
Frank Lampard (Chelsea)
Steven Gerrard (Liverpool)
Arjen Robben (Chelsea)
Shaun Wright-Phillips (Manchester C)
Thierry Henry (Arsenal)
Andrew Johnson (Crystal Palace)