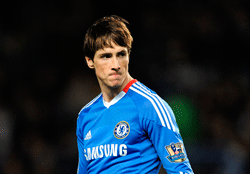 Chelsea are now a best price 10/1 for the Premiership after their 1-0 defeat to Liverpool yesterday
Chelsea boss Carlo Ancelotti believes £50m striker Fernando Torres, who endured a disappointing debut on Sunday, will eventually adapt to his new surroundings.
Torres was subdued during Sunday's 1-0 defeat by his former club Liverpool and was substituted after 66 minutes.
But Ancelotti insisted the 26-year-old would soon begin to justify his British record transfer fee.
"We have to give Fernando time to adjust to the shape, but I think that he will do it quickly," said Ancelotti.
"I took him off as, after 66 minutes and a very busy week, it was good for him to come of.
"Fernando has experience, he has confidence and didn't show problems before the game.
"He was enthusiastic to play, excited, and it didn't show a problem."
Ancelotti played Torres in attack alongside Didier Drogba, with fellow forward Nicolas Anelka just behind the front two.
However, Chelsea rarely threatened to break through a resolute Liverpool defence, who won the game courtesy of a Raul Meireles goal.
"We played a fantastic game with this shape at Sunderland and wanted to reproduce that, but Liverpool were strong defensively, put strong pressure in their half, and we were not able to find the solution," added Ancelotti.
"The problem wasn't that Torres played – he did a good job on the pitch.
"We had difficulty finding enough space in front, because Liverpool defended very well and they put three defenders in the middle, and we didn't find the right way to attack them and were too slow playing from the back."
The defeat left reigning Premier League champions Chelsea in fourth place, 10 points behind leaders Manchester United, who lost at Wolves on Saturday.
"We are disappointed because we had an opportunity to close the gap, but now we are still the same distance," said the Blues boss.
"Maybe now we have less possibility to close the gap, but we have to try again. We have to try to fight again for the title.
"The Premier League is very difficult in every game, so it could happen that United can lose again."
Liverpool moved up to sixth – their highest position so far this season – and six points behind Chelsea and fifth-placed Tottenham, who both have a game in hand on the Reds.
"Liverpool played very well, with fantastic power, play and attitude. Obviously they can come back to fight for fourth place," said Ancelotti.
Liverpool boss Kenny Dalglish insisted that Torres' presence did not provide an extra incentive as his side registered a fourth consecutive league victory.
"As this football club has always said, the most important people are the people who are at Liverpool Football Club and that is the way it will always be," said Dalglish.
"The players approached it professionally – I don't think [Torres' presence] was any incentive.
"The incentive for us was to get three points and we did. Whatever someone else wants to do with their life is up to them.
"I came here to win three points and it would have made no difference if Carlo Ancelotti was playing up front, I'd still want the three points. The personnel of the opposition is not important to me."
The Scot refused to be drawn on his prospects of landing the managerial job on a full-time basis, simply saying: "I'm only doing what I said I would come in and do, which is help.
"I'll never stand in the way of progress at this football club. I have never had a conversation with the owners beyond the conversation I had when I came in.
"That's where we stand at the moment and until there is more to discuss, that is where we are."
Chelsea are now a best price 10/1 for the Premiership after their 1-0 defeat to Liverpool yesterday
Take advantage of the sales by saving up to 36% on a subscription to World Soccer