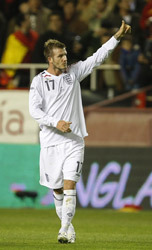 Will there be some FA Cup shocks this weekend? See the best odds on every 3rd round match here
Tottenham manager Harry Redknapp is confident that a deal to sign former England captain David Beckham on a short-term loan deal will be completed by Sunday.
The White Hart Lane club have been speaking to LA Galaxy midfielder Beckham whose American club are understood to be amenable to the move.
"It will probably get done," said Redknapp. "The clubs are talking and there's a good chance it will happen."
Beckham's first match could be against his former club Manchester United.
Redknapp hopes Beckham will come to watch the club's FA Cup third round match against Charlton on Sunday, before being available to face league leaders United at White Hart Lane the following Sunday.
"I think he could be here on Sunday, possibly, if what I'm being told on the grapevine is right," said Redknapp.
"Hopefully he will come to the game. I'm not 100% sure but he could be here on Sunday. It's just sorting out the length of the loan [now] and one or two other bits and pieces."
Beckham could play up to 10 games for Spurs before he is due to return for the start of the Major League Soccer season when LA Galaxy face the Seattle Sounders on 15 March.
"The loan is part of David's desire to keep fit and make himself available for England again," said a spokesman for Beckham on Monday.
Will there be some FA Cup shocks this weekend? See the best odds on every 3rd round match here
Take advantage of the January sales by saving up to 36% on a subscription to World Soccer