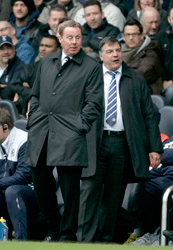 What price is Gerhard Houllier to start his Aston Villa reign with a win at Stoke on Monday night?
Harry Redknapp, Sam Allardyce and Steve Bruce have all declared their interest in succeeding Fabio Capello as England coach after Italian revealed he intends to stand down in 2012.
Capello's contract ends after the European Championships in two years' time, and the FA have said they will appoint an English successor to the Italian.
Tottenham boss Redknapp, who guided Spurs to the Champions League group stage for the first time this season, said it would be tough to turn down should he be approached.
"If you're an Englishman it would be hard to turn it down. It's the pinnacle of your career," said Redknapp.
"If you've got good players, managing England wouldn't be that difficult. And we've got good players, so I'm sure somebody out there could do it," the 63-year-old added.
Blackburn Rovers manager Allardyce, who applied for the England job in 2006 but lost out to Steve McClaren, is ready to try again.
Allardyce said: "Is that for me? Well, I went for it last time, so it's obviously 'me'.
"I remember speaking to Bobby Robson and Terry Venables. They said it's the greatest job you could ever have, so you want to do it. And if you feel like you can do it, you put yourself up for it. I've done that before but came a close second.
"International management does appeal, yes. I'm 55 and a different style of management appeals."
Sunderland manager Steve Bruce is another manager interested in replacing Capello.
Bruce said: "Of course, I would be interested and it's very kind of Harry to mention me. I would love to have a go. Why not? It must be the proudest moment of your life, even though you know what is going to go with it.
"I agree it should go to an Englishman. I have total respect for the guy in the job. But can you think that an Englishman would be managing Italy, Spain or France?
"It's all about timing, about how I do with my team over the next 18 months. But there might be a new kid on the block by then – Ian Holloway, for example."
What price is Gerhard Houllier to start his Aston Villa reign with a win at Stoke on Monday night?
Make sure you don't miss any of the last news and articles from World Soccer. Subscribe to World Soccer today and take advantage of our all 50th anniversary offer, saving up to 50%!