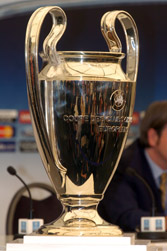 Gavin Beech thinks Everton are value to shock Chelsea at Stamford Bridge on Saturday…
UEFA has been accused of exploiting supporters as it published the ticket prices for this season's Champions League final at Wembley on 28 May.
The game will be the most expensive ever with the cheapest on general sale costing £176 each, including a booking fee.
Some 11,000 tickets will go on sale to the general public costing £300, £225 and £150 plus a £26 "administration fee". An allocation of 50,000 tickets which will be reserved for fans of the two finalists will include "category four" tickets at £80 each, according to UEFA but the Football Supporters Federation condemned the prices as too high.
"These prices are absolutely outrageous and take ticket pricing to an absurdly stratospheric new level," FSF chairman Malcolm Clarke told . "In a difficult economic climate, not only in this country but across Europe, where supporters may be coming from, this represents disgraceful exploitation of fans."
The cost of Champions League final tickets has rocketed since the 2009 final. The category three tickets have almost doubled since then, when they cost £80. The new ticket prices represent an increase of around 15% in each category on those for last year's final between Internazionale and Bayern Munich in Madrid.
The Uefa director of competitions Giorgio Marchetti defended the prices saying they were based on comparable sporting events.
"The prices are based on the type of event and when you compare it to other events we don't think that the Champions League final is overpriced," he said. "We do not want to squeeze every single penny out of the market."
The Champions League final took place on a Saturday last year for the first time after the Uefa president, Michel Platini, said he wanted to attract more children to the match.
"That's also why we put some tickets from children at a discounted price," said Marchetti, though the 500 packages on offer for one adult and one child are only available in category two and will cost £338. "That's a 50% discount for the child," Marchetti added. The £26 administration fee per two-ticket booking was justified because there were "costs involved" he said.
Marchetti added: "This is the market price. Do you think we would have trouble filling Wembley if the prices were higher? Do you think it would be different? We try to strike a balance between the interest of supporters and the interest of the event. Why should we prices the tickets lower than what we think is a fair level?"
Gavin Beech thinks Everton are value to shock Chelsea at Stamford Bridge on Saturday…
Take advantage of the sales by saving up to 36% on a subscription to World Soccer